Donations: Learn More
This website is designed to help you identify plants, and it will always be free to use! However, not everything for this website is done for free; there is a lot of driving/traveling involved to take pictures of various plants, and other costs, so, if you use the site frequently, and you would like to donate, that would be most welcome!
Primarily, we are seeking donations merely for the cost of the domain name and web hosting, but in the event that we receive more donations than expected, this is what they will go toward:
Domain Name (WildflowerID.info)
Web Hosting
Travel to areas where plants are
Ordering seeds to grow them and take photos of them in our own yard
A camera with macro setting to take close up images of stems, leaves and other parts of plants critical to IDing them
Thank you for any donations!!!

We would appreciate any support you can offer, in helping this website to function:



Goal for 2022: $400.
If you you prefer to send a check, please write us and we will be happy to send our address. Thank you!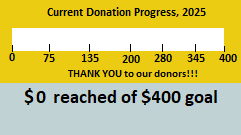 Click here to return to a list of all plants, A - Z: